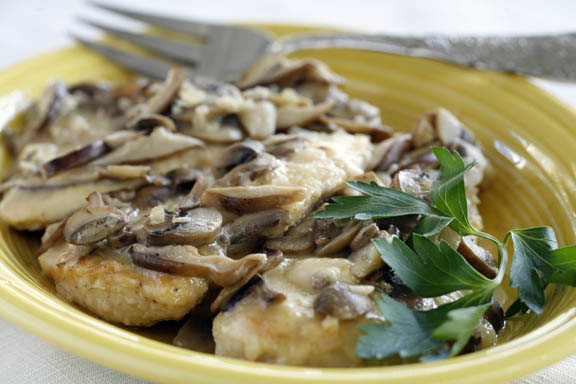 If you have never tried Chicken Marsala in your life, you have no idea what you are missing. Being a very popular dish at Italian eateries, it accentuates the flavor of chicken meat by incorporating the creamy Brie cheese and truffles. Despite being an Italian recipe, the dish boasts of having French flavors to it. The recipe uses white truffle oil which is easily available in grocery stores and is aimed at achieving decadent flavors in the dish.
Unlike most of Chicken Marsala recipes, this one is surprisingly easy to prepare and promise guests bites that are going to melt in their mouths. The truffles pair beautifully with the chicken and this recipe is just what you need to set the right mood for dinner.
Recipe
This recipe serves 6. The cooking time is 25 minutes.
Boneless chicken (cut in halves in the shape of cutlets) 3 breasts
Ingredients
Sea salt To taste
Pepper T taste
Flour ¼ cup
Canola oil 1-2 tablespoons
Brie (rindless) 8 ounces
Shiitake mushrooms (fresh and sliced) 4 ounces
Oyster mushrooms (sliced) 4 ounces
Sliced white button mushrooms 8 ounces
Shallot (chopped and peeled) 1 small
Minced garlic 1 teaspoon (1 clove)
Marsala wine ½ cup
Chicken broth 1 cup
Lemon juice ½ lemon
Butter 2 tablespoons
White truffle oil 2 teaspoons
Parsley (fresh) For garnishing
Instructions:
Heat the oven at 350⁰F. Place the chicken breasts on a flat work surface and season it thoroughly with salt and pepper. Use a little flour to dredge it lightly. Now take a large pan and place it over medium heat. Add the designated quantity of canola oil to it. Add chicken breasts to the heated oil and start frying until the chicken turns brown on both sides. Take a baking dish and transfer the chicken to it and keep it aside. Slice brie cheese into thin slices and put them on top of the chicken.
Take another pan and add mushrooms to it. Sauté them for about five minutes until they have wilted and are golden in color. Now add garlic and shallots and sauté it for three minutes until the shallots turn translucent. Add Marsala wine and cook until the mixture is condensed to half. Season the mixture with pepper and salt.
Mix butter and lemon juice together and pour it on the chicken. Bake it for ten to fifteen minutes until you are sure that the chicken is thoroughly cooked. The chicken can now be removed from the oven. Let it cool for about five minutes. Transfer the chicken to a platter. Drizzle it with truffle oil and sprinkle parsley all over it for garnishing.
Here it is important to specify that the entire process can be carried out a day before the serving is to take place. You can refrigerate the chicken if you are preparing it before hand. On the day it has to be served, let the chicken stay at room temperature for twenty minutes before baking and then bake it for about 40 minutes.